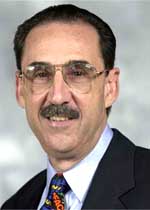 Saul D. Klein, e-PRO, GRI, CFP
Saul Klein is a REALTOR® and nationally recognized speaker and consultant who, over the last 16 years, has spent more than 15,000 hours in front of real estate professionals, consumers, association staffs and volunteers and has traveled over 1,500,000 miles delivering a message on technology and its role in the future of the real estate industry. Saul was selected by the National Association Of REALTORS® as one of the "25 Most Influential People in the Real Estate Industry" in 2003 and "Inman News 100 Most Influential Real Estate People of 2005, 2006 and 2007."



Most Recent Projects
CEO Point2 Technologies – January 1, 2008
President, Myrealtown - Internet Solutions and online community for the real estate industry - 1997 - Present
e-PRO - Creator, Author and Instructor - 2001 - Present
REALTOR® Consultant, REALTOR® Information Network 1994 - 96
National Electronic Publisher - REALTORS® Information Network, 1995/96
Educational Consultant, National Association of REALTORS® - 1995
Partner, Real Estate Electronic Publishing Company - 1995 - Present
Saul was the 1993 President of the San Diego Association of REALTORS® and Designated REALTOR® of the Year in 1999. He has been a licensed California Real Estate broker since 1977 (sales since 1974) and is an e-PRO, GRI, and a Certified Financial Planner (CFP). Saul is Registered Securities Principal (securities licenses series 7, 24, 63), a Professional Tax Preparer, and a licensed Life, Disability and Annuity agent. His real estate activities include residential brokerage and management, investment brokerage, real estate syndication, and property management. Saul has authored numerous courses on real estate ethics, agency, buyer brokerage, and financial management for the New Real Estate Professional, as well as online technology courses for Kaplan University and the National Association of REALTORS® . He is also the creator of "The Secrets of Context", a course designed to equip the participant with the personal tools to make sense of the information overload we each confront on a daily basis. Saul is a 1972 graduate of the United States Naval Academy and spent 5 years in the US Navy as a Surface Warfare Officer.
Organized Real Estate Activities
San Diego Association of REALTORS® Activities:
Professional Advancement Committee - 1979
Professional Standards Committee - 1988/89
Director - 1989/90
By-Laws Committee Chair - 1990
Strategic Planning Committee Vice Chair - 1990
Vice President - 1991
Executive Committee - 1991
President-Elect - 1992
Executive Committee - 1992
IMPAC President - 1992
BORPAC President - 1992
President - 1993
President SDCCAR - 1993
Escondido Merger Task Force - 1993
SANDICOR Shareholder Representative (MLS) - 1993
Membership Committee Vice Chair - 1994/95
MLS Task Force - 1994
Executive Committee - 1994
Nominating Committee Chair - 1994
Salary Review Committee Chair - 1994
Strategic Planning Committee - 1994/2003/2004
Executive Officer Review Committee Chair - 1994
Employee's Retirement Plan Review Task Force Chair - 1994
Orientation Speaker - 1992/93/94/95
Real Estate Trustees - 1995/96/97
Professional Standards Committee - 1995
Financial Planning Trustees - 2000 - 2001
CAR/NAR Directors Committee - 2005
California Association of REALTORS® Activities:
Director - 1991/92/93/94/95/96/97/2003/2004/2005/2006/2007/2008
MLS Committee/VOW Working Group - 2003/2004/2005/2006/2007/2008
Regional Chair, Region 24 -1995
Nominating Committee - 1994
Taxation Committee - 1991/92/96/97/2004/2008
Consumer Protection Forum - 2003/2004/2005
Commercial Investment Forum - 1991
Board President, Leadership Forum - 1993
Assistant Regional Chair - 1994
Real Estate Finance Committee - 2005/2006/2007
National Association of REALTORS® Activities:
Communications Committee - 1998/2005/2008
Taxation Committee - 2006
Vice Chair – Business Information and Technology Forum 2006
Chair – Business Information and Technology Forum 2007
Legislative Forum - 1994
Real Estate Finance Committee - 1994
Risk Management Forum - 1995
Membership Development and Promotion Forum - 1995
Fair Housing Forum - 1995
Public Policy Forum - 1996
Advisory Boards
The Robert Bruss California Real Estate Law Newsletter - 1993 to 2007
America OnLine Real Estate Board of Advisors 1995/96/97
Author and Presenter
Real Estate Technology Guide - Published by Dearborn
e-PRO Course of Instruction - National Association of REALTORS® Online Technology Certification Program
Ethics, Professional Conduct, and the Real Estate Professional - Approved by the California Department of Real Estate for 3 hours of "Continuing Education Credit"
Agency-- Questions of Choice: Practicing Real Estate in California - Approved by the California Department of Real Estate for 3 hours of "Continuing Education Credit"
How to List Buyers - Approved by the California Department of Real Estate for 6 hours of "Continuing Education Credit"
Financial Planning for the Real Estate Professional - Approved by the California Department of Real Estate for 3 hours of "Continuing Education Credit"
Tax Aspects of Real Estate for the Real Estate Professional - Approved by the California Department of Real Estate for 3 hours of "Continuing Education Credit"
The Secrets of Context - Understanding and Surviving the Power Shift
Short List of Clients and Sponsors
National Association of REALTORS®
Association Executives Institute
American Society of Association Executives (ASAE)
Albuquerque Board of REALTORS®
Greater Dallas Association of REALTORS®
North Carolina Association of REALTORS®
South Carolina Association REALTORS®
Washington Association of REALTORS®
Oregon Association REALTORS®
North Dakota Association of REALTORS®
Wisconsin REALTORS® Association
REALTOR® Association of Miami and the Beaches
Illinois Association of REALTORS®
New Mexico Association REALTORS®
Greater Boston Association of REALTORS®
Staten Island Association of REALTORS®
White Plains Association of REALTORS®
North Dakota Association REALTORS®
Northern Virginia Association REALTORS®
Virginia Association REALTORS®
Anne Arundel Association of REALTORS®
New Jersey Association REALTORS®
Arizona Association of REALTORS®
Pennsylvania Association REALTORS®
Georgia Association REALTORS®
Alabama Association REALTORS®
Nevada Association REALTORS®
North Carolina Association of REALTORS®
South Carolina Association of REALTORS®
Rhode Island Association REALTORS®
Florida Association of REALTORS®
Alaska Association of REALTORS®
Maryland Association REALTORS®
Maine Association REALTORS®
Oklahoma Association REALTORS®
Kentucky Association REALTORS®
Michigan Association REALTORS®
Minnesota Association REALTORS®
Kentucky Association of REALTORS®
Arkansas Association of REALTORS®
Colorado Association of REALTORS®
New Hampshire Association of REALTORS®
Toronto Real Estate Association
Ohio Association REALTORS®
Texas Association of REALTORS®
Indiana Association REALTORS®
Houston Association REALTORS®
Southland Regional Association REALTORS®
San Diego Association of REALTORS®
San Jose Real Estate Board
Inland Empire West Association of REALTORS®
Pomona Valley Board of REALTORS®
Sunnyvale Association of REALTORS®
California Association of REALTORS®
New York Association of REALTORS®
Pennsylvania Association of REALTORS®
South Bay Association of REALTORS®
Hawaii Association of REALTORS®
Honolulu Board of REALTORS®
REALTORS INFORMATION NETWORK
City of Coronado
SANDAG (combined governments of San Diego County)
San Diego Gas and Electric
Wells Fargo Bank
Mc Millin Realty
Prudential California Realty
Mc Millin Community New Home Sales
Brehem Communities
Pardee Construction
Printing Industries Association of San Diego
Women's Council of REALTORS®
Union Tribune Publishing Company
San Jose Mercury News
Honolulu Star Bulletin
Inland Valley Daily Bulletin
Intuit
Compuserve
Chase Manhattan Personal Financial Services
Home Savings of America
Testimonials
"Saul, Thanks for your many achievements and great strides for your community and our great state. I commend your outstanding work - You're a shining example for people everywhere"
Pete Wilson, Governor of California
"Your commitment to the real estate industry and the community is commendable. Your volunteer efforts in helping others, certainly sets an example for all of us."
Diane Feinstein, United States Senator
"Your service to the San Diego Region is well known. As a nationally recognized speaker and author, an advocate for consumer protection for home buyers, you have contributed much to our city."
Bob Filner, Member of Congress